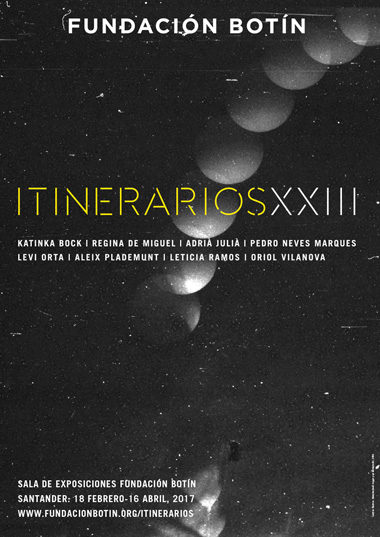 Itinerarios XXIII, a look at the latest art.

From 18 February to 16 April 2017, Fundación Botín´s exhibition space in Santander features the exhibition Itinerarios XXIII, an exhibition which purpose is to offer a look at recent trends in the field of contemporary visual arts through the work of seven artists: Adriá Juliá, Aleix Plademunt, Katinka Bock, Letícia Ramos, Levi Orta, Oriol Vilanova, Pedro Neves Marques y Regina de Miguel.
Itinerarios XXIII provides an interesting overview of how a new generation of artists is working, and what seems to be core to their thinking and practice, showing us how certain preoccupations, and indeed methodologies, recur. The artists share an interest in exploring our surrounding environs, like scientists or archaeologists, and display the result of their processes in this exhibition as evidence of sorts. "In the work of this year"s roster of artists, there also seems to be specific concerns about humankind"s relationship to Nature", argues the curator of the show, Benjamin Weil, who reminds us that over the past decade the notion of the anthropocene, an era wherein the global equilibrium of the planet is permanently affected by human activity, seems to have gained prevalence. He then went on to add that "some of the artists whose work is featured here seem to question the relevance of the art object outside of the urban environment, and perhaps how culture in general has contributed to the abstraction of Nature, which in turn may have led humankind to act so irresponsibly".
Read more
The exhibition also allows us to appreciate how many of these artists are interested in contextualizing their work using custom-made devices or technology that are no longer used by the mainstream, something that perhaps enables them to dissociate their images from the ongoing flow we are exposed to, and to foster a different way of looking at them. The need to materialize their thinking process becomes core to many practicing artists today, as if, rather than representing the world, they seem to be inclined to demonstrate or perhaps re-orchestrate its materiality. And so, according to Weil, "interpretation or meaning is created by way of elaborating narratives that may altogether dismiss the importance of tangible elements. The materialization of thinking processes may therefore be an interesting answer to this era of "post truth" we may have entered". And today, more than ever, humankind is faced with the fact there is not one single way to analyze and grasp our world, and that objectivity may turn out to be a construct; and this in turn produces a state of great confusion.
Itinerarios XXIII
From 18 February to 16 April 2017.
Fundación Botín Exhibition Hall.
Marcelino Sanz de Sautuola, 3.
www.fundacionbotin.org/itinerarios
Read less