Exhibition Lothar Baumgarten. Los Aristócratas de la Selva y la Reina de Castilla
From 19 October 2012 to 7 January 2013 at Botín Foundation Exhibition Room, in Santander.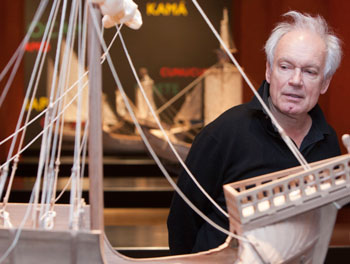 Curator: Alicia Chillida.
Los Aristócratas de la Selva y la Reina de Castilla is a production designed specifically for the Botín Foundation's exhibition space in Santander. It displays and structures Lothar Baumgarten's research into the experience of travel and the notion of discovery, stressing the major role played by nautical engineering during Columbus' voyage. The exhibition can be viewed as a reflection of Europe at the time of the Discovery of the Americas and of the clash of civilizations that led to the disappearance of a large number of indigenous tribes and their languages.
In July 2012, Lothar Baumgarten directed the Artist Workshop organized by the Botín Foundation at its Villa Iris. As a continuation of this, the artist is now the focus of an exhibition in which historical memory and architecture -elements ever present in his work- become interlinked in a unique fashion with the conditions of the exhibition space and the history of Cantabria, the birthplace of the cartographer Juan de la Cosa.
The exhibition employs a work in progress approach. Baumgarten has entirely transformed the space using various components that interact with one other and with the architectonic features of the exhibition area to build a landscape echoing with the lost voices of the Old and the New Worlds. The architectural transformation of the space has been developed in collaboration with the Parisian architect Lorenzo Piqueras.