Every year, the Water Observatory of the Botín Foundation announces three prizes to acknowledge innovation, dissemination of ideas, projects and technologies developed by young professionals that have proven to contribute to sustainable water management.
The call is open to young researchers, technologists, social entrepreneurs, activists and journalists who have contributed to the sustainable management of water. Any person of any nationality under the age of 40 years, as an individual or on behalf of a team, is eligible.
The prize categories vary every year, and thus the jury, which is composed of professionals from different water management areas.
The amount of the prize for each category is 1,500 euros (taxes included) for the best proposal in each of the categories.
More information:
SUBMISSIONS 21st MARCH - 20th JULY 2018

The Water Observatory announces a contest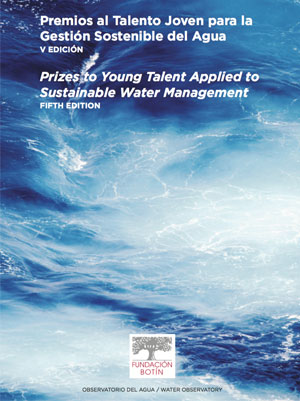 of ideas, technologies and projects developed by young researchers, activists or communicators who have contributed to sustainable water management or by people of any age who promote young talent applied to sustainable water management.
Prize categories:
1.Category A. Models of Management and Technology that contribute to sustainable water management. Submissions in this category include projects/ideas/technology that have proven to improve water management.
Any person, of any nationality, born after January 1st 1978 is eligible for prizes in Category A.
Under modality A, the prize will be awarded to the best two candidates.
2.Category B. Educational project or activity daddressed to children or teenagers. This includes initiatives or projects aiming at raising awareness of children and teenagers about different aspects of water resources and the importance of its sustainalbe management.

There is no age limit for Category B but the initiative or project must be intended for school age children and/or teenagers.
The prize for each Category is a cash payment of 1,500€ (including taxes). If the candidacy is collective, then the prize will be shared among the team members.
Deadline for submission is July 20th 2018.

Terms of conditions 2018 (pdf)
The Botín Foundation will announce the decision of the jury on September 20th 2018.
Submission will be submitted online, through this link.
SEE WINNERS OF PREVIOUS EDITIONS